YoonYulisReal
Feb 7 / Female
Joined on Mar 5, 2011
Last login on May 16, 2013

"I'm Ace Family Shipper Forever!!!!!!"
Personal Message
22/02/2013
YoonYul Newest Video
What's YoonYul?
In the words of Yoona, it's real...or in Yuri's case, reality.
-Well, there a numerous reasons why I became a fan of this pairing but the main reason will undoubtedly be their chemistry. There is no other pairing that has this chemistry that YoonYul shares. From their eye contact, to their body language when around one another, it's like seeing a married couple. Plus, before the formation of SNSD there was YoonYul. Their nickname as the "original couple" derives from pictures that Yoona has uploaded during their trainee days of the two together...sure she may have uploaded pictures with herself and other members but to be frank, her pictures predominately include Yuri in every shot haha.

With Yuri, she exudes this need of Yoona. During earlier promotions when Yoona wouldn't be around, you could tell how lonely she was. When Yoona would make appearances with the group, her energy shifted towards being more upbeat, contempt and above all else, around Yoona 24/7. Even bringing up Yoona's name brings a smile upon Yuri's face. When Yoona is missing, Yuri brings her up constantly in interviews and so forth. Her smile that is plastered upon her face when she's with Yoona is different when around anyone else. You can't deny the sparkle in her eyes and the grin on her face when she's with Yoona. Need evidence on how much Yuri needs her Yoona? Just look up the Hello Baby episodes that
Yoona isn't in. Yuri mentions her every other minute.

With Yoona, it goes a bit differently. Although both Yuri and Yoona are considered a bit tomboyish in the group, Yoona's personality makes Yuri look like the girliest girl in the entire world. Yoona may seem a bit more "laxed" out of the two and she may not be as open as Yuri, but the body language and eye contact is undeniable. Yoona never really shows off her emotions or playfully flirts so candidly with anyone else like she does with Yuri. She usually is the first one to take the physical intitiative and always showers Yuri with all her attention when around anyone else. When she came back from filming her drama's and so-forth, she would stick by Yuri's side and no one else. Out of all the pairings, what makes this pairing special is their fancam moments. Usually, pairings are driven by how other couples act infront of a camera, but when it comes to YoonYul, they have even more evidence of their bond through the fancams that the two have been caught on. Yoona is shown even more attentive towards Yuri in fancams and pictures. During Hello Baby, you can see how much focus Yoona puts on Yuri, even when the camera does not focus on them, they are off to the side in their own little world.

You can't deny the fact that the way that they look at each other that there isn't something there, because there is. The way they hold hands is different from the way they are with the other members. The way they look at each other is different than the way they look at other members. The way they even walk together, the closeness that they share is undeniable. Simply put, YoonYul is undeniable.
Basically, Yoona and Yuri have both gone on in public saying numerous times that YoonYul is real. Other pairings never had the girls say they are real in public. Like for example, TaeSun has never stated in public that they call themselves TaeSun or that they are real, just supporters of the pairing say that they have moments that are real. YoonYul is legitimately real though because both Yuri and Yoona have called themselves YoonYul and they have told fans that YoonYul is real.No other pairing has done that.
No pairing has also never called themselves by their pairing nickname. Even in HB, the girls call Yoona and Yuri YoonYul
YoonYul indeed!!!!
she can play PDA with others but in the end she just go to her Yoona hahahaha
yul so caring with other members like sica or fany but it's not a secret anymore by the end of the day she will look for her yoong not others huehuehue so in her personal life (not related to group thingy) she's the closest to yoona (and sooyoung)

just look at their moments she will show her closeness with other members but later on she will stick by her yoong hahahaha
why so hard thinking which real just see who's she's looking for or keep mentioning on HB if that person not there???? who???

YOONA!!!! kekeke


when other members not there, i never heard yul looking or mentioning them XD

look at her affection towards yoona and others to me with yoona it's in different Level, it's full of love hahaha not that with others not, she loves other members tho but yoona just diff she's special huehue

they spent most time together since the beginning their Bond is different

you can see when yoona around her, she wont look that bored

she's close with others more since yoona so busy backthen, but offcam and else look who's the person she miss so much and look/call the most?
yes it's yoona!!!! i remember in Yoona interview she said she has to turn off the phone coz yul calling Non Stop!!! hahahaha XD

im sure yul so happy when she got to be in same room with yoong hahahah
for yoong who gets bored so easily at night she sacrifice her sleeping time to accompany yoong huehuehue
text credit to YoonYul trooper.
YoonYul is More Than real...........
I love ACE FAMILY COUPLES.......I'm Ace Family Shipper
About Me
I love SNSD so much.
I'm Sone.......
My OTP :
1. YoonYul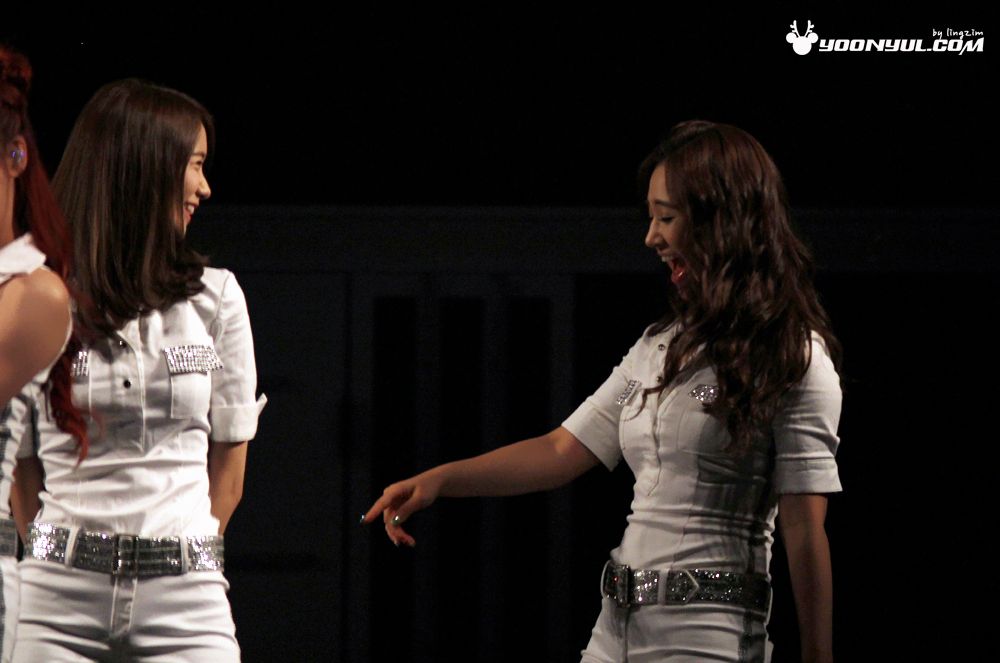 2. JeTi
3. SunYeon
^ Back to Top